May 1st, 2008 categories: Deal Making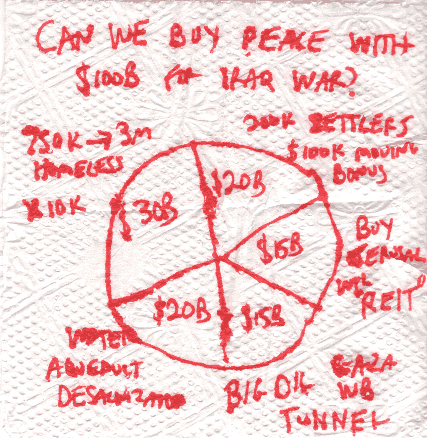 If I had a sliver of ever deal that ended up in the toilet as a result of partner infighting, I'd own Berkshire. If napkins were intended to be legal instruments, people wouldn't use them to wipe their chins, blow their nose in, or clean up spills. Napkins are fine for sketching ideas at the coffee shop, but you'd better memorialize your shared inspirations with a definitive agreement, if you want to avoid future headaches. Good faith, goodwill, and good intentions are mere spittle, irresponsibly mouthed from the lips of naive deal-makers, giving little consideration to what matters most – implementation. This "googley talk" always precedes the perfunctory palm pressings that underscore every narrowly defined deal.
For all the use of the word "good" in the early stage deal-making, there's still one missing… good luck - because if you intend to make a deal with that napkin in your lap, you're going to need it.
For those in need of a refresher, partnerships are defined as follows:
A legal contract entered into, by and between two or more parties, in which each party agrees to furnish all or part of the investment, and/or labor within the business – and by which each party shares a fixed proportionate value of profit and loss.
A contractual relationship between individuals, groups or companies, characterized by mutual cooperation and responsibility, whereby strategic and tactical initiatives are carried out for the betterment of the whole (hopefully).
So why do most entrepreneurs fail to honor this seemingly simple charter, before, during, and after the deal points are agreed upon? Because the unwitting "would-be" entreprenerps can't identify with the concept of planning the divorce while eating the wedding cake.
Everyone revels in romance and joy during the courtship and engagement – it's a natural state of being – a time of dreams, fostering creativity, exuberance, and high hopes for the future. Unfortunately, like most marriages, business relationships become strained. Greed and stupidity eventually take hold. The bright blue lines that once clearly defined your magical napkin have now faded, blurred, become distorted – illegible.
I often counsel "newlywoulds" that the supposed negotiation between them never took place if the parties cannot recall moments of contention and or extreme discomfort. With that said, what makes a deal stick?
Know who you're getting into bed with and expect everyone to be a spy
Play it close to the vest and never share your genius with anyone you don't have locked down. The fact that you like the sound of your own voice is not good enough – sing in the shower. Everyone claims to be a partner and loyal comrade – to kill or be killed by your side (sure).
Establish the ground rules
Oddly enough, it is often misunderstood, as to exactly who the Emperor is. Make sure to clearly delineate the roles of each player and what kind of government you intend to run. Will it be a Democracy, an Oligopoly, or a Dictatorship? Without clear distinction upfront between the parties, the last words you utter might be "Et tu, Brute?"
Document Everything
Keep minutes of each brainstorming session for strategic reflection, planning, contemplation and commemoration. You'll understand later why it was so important to remember who contributed what. Anything that has to do with roles and responsibility, management, profit and loss, expenses, encumbrances, representations, decision making, voting rights, salaries, commissions, bonuses, distributions, dilution, priority and preferred returns, loans by officers, shareholders, friends, family and fools, is all relevant.
These details will become the Magna Carta of your deal. Once you're ready to actually commit to something binding, you'll need a more definitive framework to embody all of the relevant terms and conditions – which you and your partners have hopefully ferreted out, during those endless hours of strategic dreaming.
In Comes the Contract to Negotiate in Good Faith
It means what the name implies. The CNIGF is a semi-complete agreement, where two of more parties agree to be legally bound by specific provisions. However, the term "Good Faith" means that some, but not all of the relevant deal points have been agreed to, and that the parties wish to continue to work together towards that end. Essentially this document gets you closer to a deal, but still leaves a gaping hole for trouble makers to plow through. Bow with your eyes open.
Operating and Shareholder Agreements
Now you're getting somewhere, assuming you don't drop the ball at this point. The provisions of the Operating Agreement (for limited liability companies), or Shareholder Agreement (for corporations), define in clear and concise legal terms, what's what and who's who. If crafted properly and negotiated well, these documents will be stand the test of time, and do their job – for better for worse, for richer for poorer, in sickness and in health, and till death do you part (rarely the case).
We have developed an application, currently in alpha, that might save your marriage. It called Napkin 2.0 – give it a whirl and tell me what you think. And remember, the mere consummation of a deal does not necessarily make it a good one-just one defined. The bottom line: Go with your gut, but get it in writing.
Leave a Reply