August 5th, 2008 categories: Business Plans, Entrepreneurship, Venture Capital
Written By XVulture | Discussion: Enter your password to view comments
July 12th, 2008 categories: Investment Networks, Venture Capital
A successful bachelor really never throws away his "little black book," and neither does an Xvulture. From time to time we "water the plants" to ensure a blooming rose is always in season.
The Rosebuds in our world consist of "Venture Capable" friends and trusted institutional investors – relationships cemented over the years by successfully pulling the wings off start-up flies and emerging growth companies.
Our network of private and corporate cohorts are often mistaken by would-be entrepreneurs for "Angels," "VCs," and "Investment Bankers."  To us they are just that, but to the uniformed start-up, they might as well be an electric fence—which brings me to the point of this post:
INVESTMENT NETWORKS ARE BOGUS.
Written By XVulture | Discussion: 5 Comments »
May 23rd, 2008 categories: Entrepreneurship
Mark Twain left home at eighteen years of age, having heard enough of his father's wisdom. After returning a few years later, he couldn't believe how much his old man had learned.
I just love bushy-tailed know-it-all's—young entreprenerps who've obviously never read Michael Gerber's "E-Myth." Go forth young technician and conquer the world. Surely your exceptional skills as a salesman/broker/engineer/coder/designer/whatever, will propel you to great heights, once you catapult over your air-conditioned cubicle.
Written By XVulture | Discussion: 3 Comments »
May 6th, 2008 categories: Venture Capital
It pains me to mention how many times I've heard this phrase: "If I can only get through the door, I'll sell this deal." Sure you will – if the door's made of Balsa Wood and you're strapped with explosives. Short of that, you don't "get through the door," you're invited in – and once you're there (wherever there is), don't be too discouraged if you hear chanting from the bowels of back office… "Dead Deal Walking!"
I know, you're probably scratching your head right about now, wondering how this catchphrase relates to your big shot. In Vulture cackle, Deal Deal Walking is a fraternal battle-cry – a cheer of enthusiasm that assumes another "stew worthy" entreprenerp is about to be skinned, and there'll be meat for everyone.
Written By XVulture | Discussion: 1 Comment »
May 1st, 2008 categories: Deal Making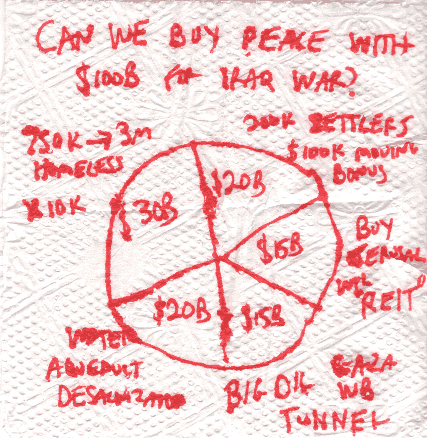 If I had a sliver of ever deal that ended up in the toilet as a result of partner infighting, I'd own Berkshire. If napkins were intended to be legal instruments, people wouldn't use them to wipe their chins, blow their nose in, or clean up spills. Napkins are fine for sketching ideas at the coffee shop, but you'd better memorialize your shared inspirations with a definitive agreement, if you want to avoid future headaches. Good faith, goodwill, and good intentions are mere spittle, irresponsibly mouthed from the lips of naive deal-makers, giving little consideration to what matters most – implementation. This "googley talk" always precedes the perfunctory palm pressings that underscore every narrowly defined deal.
For all the use of the word "good" in the early stage deal-making, there's still one missing… good luck - because if you intend to make a deal with that napkin in your lap, you're going to need it.
Written By XVulture | Discussion: No Comments »
April 24th, 2008 categories: Venture Capital
Let me guess…you can't sleep at night.
You've been up for days thinking about your new idea, or perhaps the latest rendition of it. You have it all thought out: staffing, management, equipment, space requirements, growth rate, sales and marketing, etc.
You're certain to recruit great talent, and why not? —with an endless supply of superior malcontents within your sector – you might as well be plucking day laborers from the back of an INS truck. They'll gladly serve as Generals in your army. You'll be a fearless leader and command battalions of troops (lured by options of course), to join your disruptive Jihad against oppressive corporate America. You'll free yourself from the shackles of mediocrity and the bondage imposed upon you by the "9-5 Axis of Evil." All you need now is a little financial support – a brigade of friends, family and fools, peppered with a few Angel Investors, here and there. One hard pull on the bootstraps and it's off to the Series A Round—here comes the private placement for widows, dentist's wives and idiot's sons.
Following that successful round up, who'd ever question your plans for an institutional play? Maybe 20% for $1M and some convertible debt. Venture Capital is abundant and there's billions of it out there. Just Google the word "Ventures" and take your pick. Better yet, why not join a few preferred investor networks – bringing the red light district right into the privacy of your own home.
Flash forward, you're nearing the three year mark (in your head). Why not position yourself for a successful merger, acquisition or IPO? (they're quite abundant these days). Why not go OTC? Your buddy knows a guy who knows a guy, that does these "reverse mergers" into public shells. It's not that expensive, and a great way to churn your own volume – Next stop: Nasdaq.
Written By XVulture | Discussion: 1 Comment »
April 24th, 2008 categories: Entrepreneurship
Deals are a dime a dozen, maybe a penny these days. Like a good dog, everyone thinks they have one – sure, while it's cute and cuddly, until it grows up to bite you in the ass. Animal's behaviors mimic their human counterparts (Dog Whisperer 101). If you're neurotic, so are they. If you're stressed and erratic, so are they. If you're abusive, they'll turn.
Deals, similar to dogs, often have fleas, and sometimes blood sucking ticks – differentiated generally by those who care for them. To care for a deal, you must have discipline, patience, time, understanding, and the ability to constantly adapt to external stimuli. A great leader not only balances these factors, but does so while others remain awestruck at the magnificent effortlessness of it all.
Written By XVulture | Discussion: No Comments »